Welcome to the beautiful Hunsrück hills.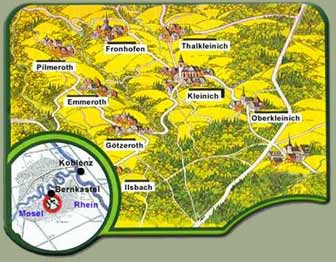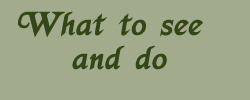 Welcome to the village of Kleinich with its 8 separate hamlets. Our house is in "Oberkleinich" which has about a 100 inhabitants.

You can find more information about Kleinich on the website www.kleinich.de.

Kleinich is a small village, right in the middle of the Hunsrück, surrounded by woods and meadows. On our terrace with its exensive views of this wonderful countryside you can relax and let the days slip by.
Or you can explore the many hiking trails in the surrounding countryside. We also have a total of 25 miles of bicycle trails.
Excursions
The following is only a limited selection of the many things to see and do within easy reach :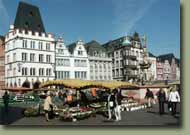 The central Moselle valley with the fascinating towns of Bernkastel-Kues (8 miles), Traben-Trarbach (8 miles) and Cochem (18 miles)
Romantic ruined castles in the Hunsrück and along the Moselle
Pleasure trips with steamers on the Moselle
Day trips to the historical towns of Trier (45 miles) and Koblenz (50 miles)
The centre of the German semi-precious stones industry Idar-Oberstein (21 miles)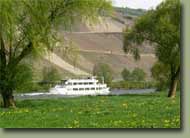 The city of Luxembourg (55 miles)
And much more